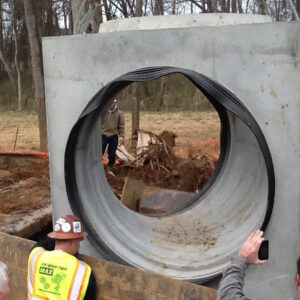 Cast-in seals for precast structures are unique for a lot of reasons and you're here reading this because you have questions about the seal, right?
So let us fill you in on 5 misconceptions you might have.
Complicated Seal Costs More
Because the seal is cast into the structure, you might think it's a more complicated process that costs you more. But in reality it does not because it saves you time, money and energy in the field because you're not coring a hole or taking the extra time to insert a boot. The simplicity of the cast-in seal allows you greater flexibility (no pun intended) in your day-to-day business operations.
Boot Can Get Damaged
You might be envisioning this rubber connector sticking out the side of your precast structure and now it's going to be transported on a truck where it will surely get damaged. But that's not possible because the design of the connector allows it to be folded inward for transport and then once in the field, it simply can be unfolded to protrude from the structure and easily attached to the pipe with our supplied clamps.
Cast-In Seals Prevent Deflection
Our Cast-A-Seals are designed like our boot-type connectors and this accommodates pipe deflection without losing the seal. The large key-lock assures a watertight seal between the connector and the precast structure.
Requires Expensive Hole Formers
Tooling for casting is available for many sizes or you can easily fabricate them yourself from the host pipe or rolled steel rings.
It's Only for Concrete Pipe
You might think these connectors are only for concrete pipe, because we're talking about precast concrete structures. But that's certainly not the case. You can use cast-a-seal connectors for PVC, ductile iron and concrete pipe. Available for pipe sizes from 1-1/4" to 72" (32-1800mm) we're certain we have the right connector for your needs.