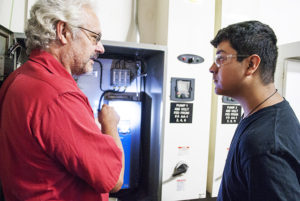 Three students of the Conexus Intern Program are employed here at Press-Seal this summer as part of our continued efforts to make "manufacturing cool again".
This innovative program places high school students into the workforce where they learn and perform real-world activities in advanced manufacturing or logistics with Hoosier companies.
CEO's of manufacturing companies across the country are struggling to close the skills gap left by the worst recession since the 1930's. Conexus and our continued efforts here at Press-Seal have closed that gap by providing on-the-job training.
Labor Secretary Alexander Acosta was recently quoted as saying "Experiential learning is applied in some areas, but not in others."
High school students don't automatically find their way to local advanced manufacturing employers such as Press-Seal and they need the knowledge of these companies and the access as well. The Conexus Intern Program provides this opportunity and we have become an A+ Partner with 220 other Indiana manufacturers.
Three Success Stories at Press-Seal
Talking about career opportunities in a manufacturing facility is one thing, experiencing it first-hand is another and we have not one, but three area high school students selected from North Side High School as qualified candidates for the program.
When you become part of the Press-Seal team, you become part of a family-owned company that strives to improve its business through our most valued asset – our employees.
Along with the qualifications required by the Conexus Intern Program, our selection criteria included the willingness to learn and we looked for candidates who were eager to do more than just be employees. We want them to know that they are part of a bigger picture in our continued growth.
Our students are performing duties in shipping and logistics helping us gather data, assisting with our continued 5S and lean manufacturing efforts, understanding the high-tech skills of precision tooling and performing necessary maintenance duties to keep the facility functioning at the highest level possible.
We look forward to our continued relationship with the Conexus Intern Program and our efforts to develop relationships amongst the educational facilities and families of our Fort Wayne community.