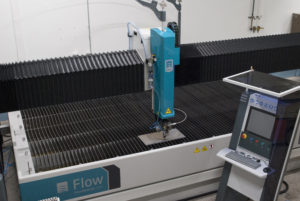 Waterjet cutting services have always been an ideal option for customers of Press-Seal who need high precision cutting services. Whether the material is wood, stone, rubber, aluminum or steel, our waterjet cutting services have been instrumental in making customer parts.
We have upgraded our waterjet machine to a much larger table and have improved the technology we use to cut these materials for a variety of markets.
A More Accurate Cut
The technology used in our new Flow Waterjet 500 has a linear straightness accuracy of +/- .0015 which is incredibly more accurate than traditional cutting services. The machine balances itself to compensate for stream lag and taper limiting any distortion or angular cutting in your parts.
Waterjet Cutting Advantage – It's Non-Invasive
As a cold cutting technology, waterjet has advantages over traditional cutting methods because they generate heat which in turn can effect the end result.
Larger Envelope
With an envelope of 13'x6′ we give you the opportunity to use larger sheet materials that allows more parts per run reducing production times and costs.
Overview of Features & Benefits
Nesting – eliminate waste with the capability of nesting parts allows for lower cost-per-part and greater material yield
Finishing – we can cut material with a burr-free edge so little to no finishing is required
Materials – Using pure water or garnet abrasive allows us to cut virtually any soft or hard material
Download Sales Sheet