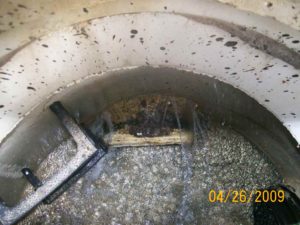 Knowing why a manhole connector leaks is just as important as knowing which manhole connector is right for your job. So why do they leak?
In our experience, the majority of all reported gasket and connector field problems are due to contractor installation issues. Don't take offense contractors, we're not saying that you aren't capable of doing a good job. We think you're amazing.
But we also know that 50% of the time the initial problem reported is different after visiting the job site.
Things Contractors May Miss On Installation
In no certain order, these are things we have seen quite often that could cause improper installation of our manhole connectors, which in turn could cause leaks.
Firm, stable, uniform bedding
Unauthorized repairs
Improper placement of butyl sealant or not equalizing rubber gasket
Incorrect stacking
Not understanding manhole vacuum test standards
Carelessly inserting pipe into manhole connector
Chipped, broken or cracked openings on manhole
Proper Manhole Connector Installation
A manhole connector might look more complicated because of the steel take up clamps, but it's actually a fairly easy process.
Clean pipe section at least 3 feet from insertion end.
Center pipe in opening until pipe breaks the plane of manhole. On tight boot throat openings, lube can be used.
Attach take-up clamp or clamps. If one clamp and boot with two grooves, clamp goes on first groove.
Tighten clamps to 60 inch pounds.
Adjust pipe to line and grade.
Use proper bedding and backfill materials and techniques so that pipe deflection and deformation is minimized. More on bedding & backfill later.
Here is a more detailed video on how to install our PSX: Direct Drive.
Proper Field Gasket Installation
So how do you install a gasket? What are the critical steps in ensuring a better seal each and every time?
Clean step and bell, check for any chips or imperfections.
Stretch gasket over spigot and seat squared area against the step. Gasket print towards you.
Equalize gasket; pinch, pull, snap technique or metal object underneath making 1-1/2 revolutions.
After equalizing, ensure rear of gasket is seated against step.
Heavily lubricate bell and entrance slope (lubricating gasket is optional on profile gasket).
Align pipe sections squarely and bring home slowly.