What Is A Manhole Connector?
If your specifications call for a manhole connector to meet or exceed ASTM C 923, you might want to check out one (or all) of these options.
But what is a manhole connector?
Essentially it is a round "boot-type" product that connects a pipe to a manhole through either compression sealing or via expansion mechanisms that help create the watertight seal.
1.)   CAST-A-SEAL 12-08
If you are casting your hole for a standard manhole boot, the CAST-A-SEAL 12-08 takes a step out of the manhole production process. It's really ideal for you if you're producing monolithic poured inverts.
The connector's gasket mandrel system is very unique as well. It's one piece and is removed like a standard hole former.
2.)   ECONOSEAL
Contractors or engineers looking for a cast-in connector that is easy to install and has excellent sealing properties will love the Econoseal.
The key lock that is cast-in integrally into the manhole during the production process adds another feature to the product that manhole production facilities will certainly appreciate.
And finally, the Econoseal can fit 4"-15" pipe in standard manhole sizes.
3.)   PSX: Direct Drive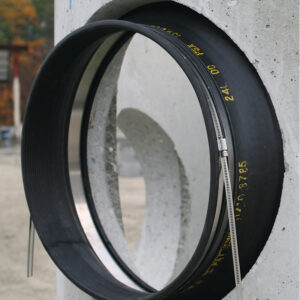 Forged all stainless steel components into a perfect balance of rubber is the PSX: Direct Drive for storm or sanitary structures.
It differs from most competitive manhole connectors with its all stainless steel components, no plastic parts or no welds or rivets.
4.)   CAST-A-SEAL 802
Large pipes with straight walls call for a specific kind of manhole connector. One like the CAST-A-SEAL 802.
Manufactured to fit almost any pipe diameter and easily cast in with a fabricated rolled steel ring mandrel or Styrofoam, the CAST-A-SEAL 802 is your answer to the big jobs of sealing manholes.
5.)   Kwik Seal
Simplicity is the ultimate in sophistication – it really is. And the Kwik Seal is precisely sized to fit in a cored or cast-in manhole opening with no special tools required.
Once in place (cast or cored) the pipe is pushed home and compresses around the pipe O.D. At the same time it deforms against the manhole opening creating a similar seal that you would find in pipe gasket joints.
6.)   PSX: Nylo Drive
This is the ultimate in sibling rivalries when it comes to manhole connectors at Press-Seal.
With the ability to retain the same sealing power as the PSX: Direct Drive, while adding a new state-of-the-art power sleeve, the PSX: Nylo Drive is the plastic equivalent to its big brother.